Archaeological Survey in Khalifan (Autonomous Region of Kurdistan, Iraq)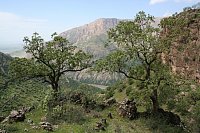 The Khalifan Survey is located in an almost unexplored area of the Zagros Mountains in northern Iraq. The few excavations in this region took place as early as the first half of the 20th century and focused on prehistoric sites such as Banahilk (Late Neolithic) and Zawi Chemi (Early Neolithic). Later research by the Iraqi Antiquities Authority was mainly related to the construction of the Bekhme Dam on the Great Zab. By the beginning of the Khalifan survey in 2014, in total ten settlement sites and caves were known in the Khalifan district, whose find material was often undateable. The few dating details that were given point for individual sites to the late 3rd/early 2nd millennium BC or to the Islamic period.
The most recent field surveys in 2014-2017 now show that even in this rugged mountain region without extensive agricultural areas, the settlement pattern can be further condensed and the considerable chronological gaps can also be gradually closed. In the meantime, there are clear indications that the area was also settled in the late 2nd and 1st millennia BC. This period is of particular interest with regard to the historical sources on the Urartian-Assyria conflict in the Neo-Assyrian period, because the Khalifan district is usually defined on the historical maps of this period as an empty buffer zone between the two great powers Assyria and Urartu. At present an important focus of research is also the fortifications, some of them massive, which have become known for the first time in this area and can be compared well with Late Bronze Age and Iron Age fortifications from the western Urmia region.
The project under the direction of Dr Claudia Beuger is taking place in cooperation with the General Directorate of Antiquities Erbil and the Department of Antiquities Soran. The work was made possible by funding from the International Office of the Martin Luther University Halle-Wittenberg (2014, 2017), the Franz-und-Eva-Rutzen-Stiftung (2016), Deutsche Orient-Gesellschaft e.V. (2015-2017), Gerda Henkel Foundation (2017-2018) and the Fritz Thyssen Foundation (2018).
---
---