Archaeological Fieldwork
With the generous support of the Gerda Henkel Foundation, initial field surveys were conducted in 2019 within the Seminars for Oriental Archaeology's Ushkiani Project, the Department of Art History of the Martin Luther University in Halle-Wittenberg and the Institute for Archaeology and Ethnography of the Armenian Academy of Sciences, which simultaneously served as preliminary investigations for the archaeological campaigns from 2020 onwards. Within these investigations, 53 new sites were able to be mapped and documented, 39 of which were hitherto unknown (fortified settlements, settlements and burials).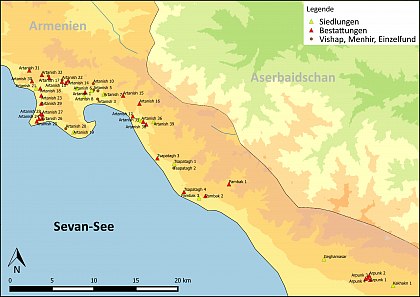 Region Shorzha/Artanish. Neu dokumentierte Fundplätze (Prospektion 2019).
(Karte: R. Kunze, Halle)
The documented ceramic material enabled the establishment of an initial, tentative chronological classification of the new sites within the Early Bronze Age of the Kura-Araxes Culture (3,500-2,400 BCE), up until the Middle Iron Age (600 BCE). In 2019, field surveys were supported by accompanying geophysical prospection carried out by Dr. Jörg Faßbinder's team (LMU München), who were able to prospect a number of surfaces. The results of three surfaces in particular – two burial grounds and a settlement – indicated potential for possible further archaeological investigation. Kurgans of various sizes can be seen in the Artanish 23 and 29 necropolis, some with a circumferential stone circles – the so-called "cromlechs". The prospection of the settlement area Artanish 9, lying atop the plateau-like hill, produced several anomalies with respect to suspected house structure. From 2020 onwards, these three sites should be investigated more closely using archaeological methods.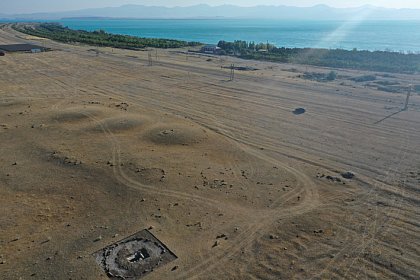 Region Shorzha/Artanish: Fundort Gräberfeld Artanish 23 (Foto: J. Abele, Tübingen)
---
---