Nazarlebi Depots 2 und 3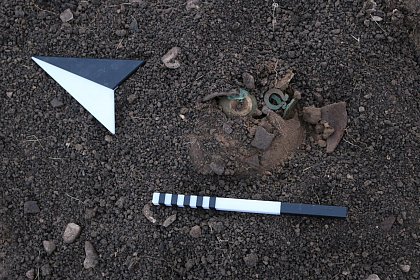 Fig. 1: Deposit 2 in PS 3. Sherds of the pot, the jar with frit coating and individual bronze objects are visible.
In PS 3 in the southwestern quarter of the site Deposits 2 and 3 were located close to each other and - like DF 1 of 2018 - directly in front of the double-shelled wall (Figs. 1-2). Concerning the excavation progress, they have been found, excavated and recovered one after the other. Both, DF 2 and 3 were stored in small vessels, which again consisted of already familiar poor quality wares and immediately disintegrated into countless pieces. Nevertheless, a restoration attempt is planned in order to determine the shape of the vessels and perhaps draw a chronological conclusion. Also characteristic of the two deposits is the combination of bronze jewellery objects and beads; there are no weapons or implements among the objects.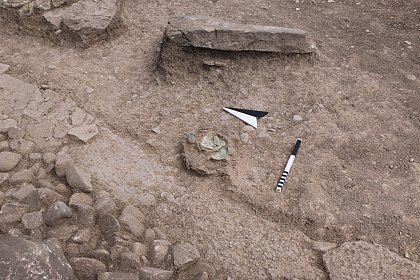 Fig. 2: Deposit 3 in PS 3; the imprint of the vessel from deposit 2 can be seen immediately to the south. The position directly at the inner edge of the wall corresponds to that of deposit 1 from 2018.
DF 2 is the more extensive of the two. It contains about 360 pieces of various flat bronze objects of different shapes, such as pomegranates, leaves, rectangular or rounded platelets (including perhaps armour platelets), axe- and bottle-shaped platelets, flat and convex round discs with different decorations, as well as lunula-like pendants, some with still preserved hangers ending in two spirals (Figs. 3-5). It is interesting that some of these objects are attached to chains (Fig. 5). Individual chain links also occur and are difficult to distinguish from rings, i.e. jewellery.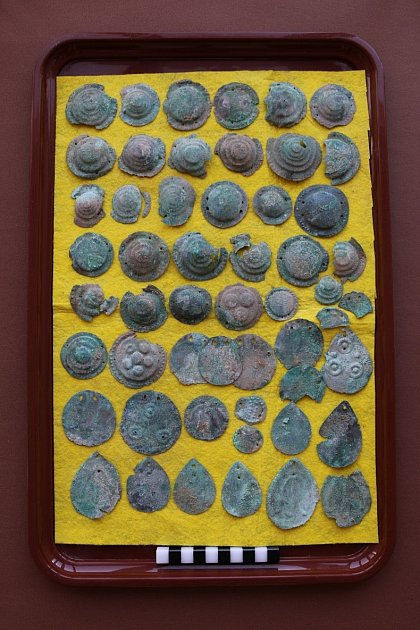 Fig. 3: Deposit 2. Ornaments (1).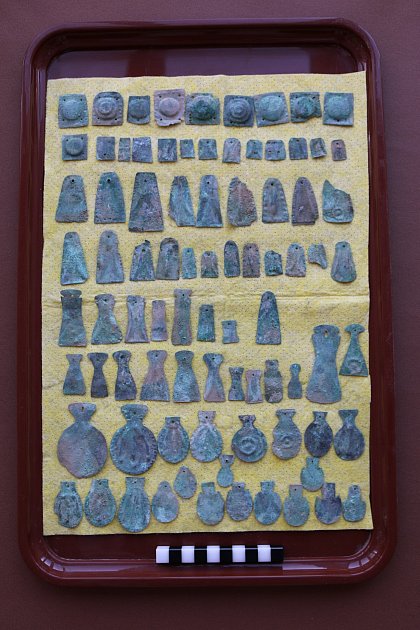 Fig. 4: Deposit 2. Ornaments (2).
The second group of finds in DF 2 consists of bronze small finds, including bracelets, a complete bronze plastic of a bird with outstretched wings, claws and attached eyes as well as an eyelet for hanging, various buttons and elongated bronze beads with central knobs.
In addition, there are countless small red beads or pendants (made of carnelian, agate, possibly coral) in spherical or disc and bag shape, as well as 16 frit beads of various shapes and two dentalium beads and a fragment of one.
DF 2 also contained the special feature of a small jug (Fig. 1) with a frit coating of light green-bluish colour and incised decoration in triangular shape on the shoulder; this is where the handle, which has not been preserved, attaches. The body area was decorated with vertical lines. Many fragments of the rim and lip of the vessel indicate that they were decorated with narrow lines. The jug itself contained eleven red disc beads and one ball bead.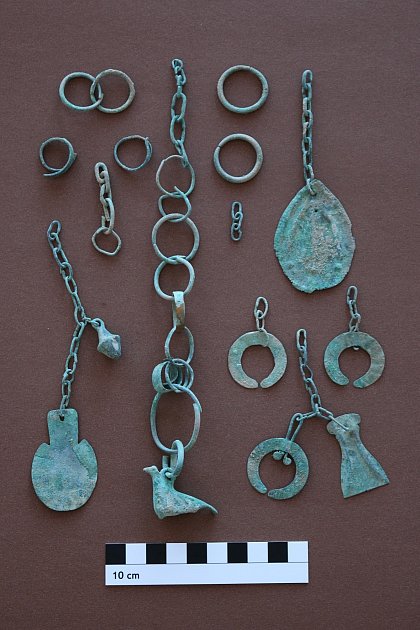 Fig. 5: Deposit 2. Various objects on chains; chain links.
DF 3 (Fig. 6) is clearly less extensive than DF 2. Several bronze objects, including decorative discs, bracelets, finger rings, a diadem (or undecorated, very narrow belt plate?) and a button are the metal findings. In addition, there are five rather large beads with lengths of 2.5-3.2 cm made of different, not yet exactly determined materials (among them probably agate). As with DF 2, ball and disc beads made of red stones are added, but only a single bag-shaped pendant.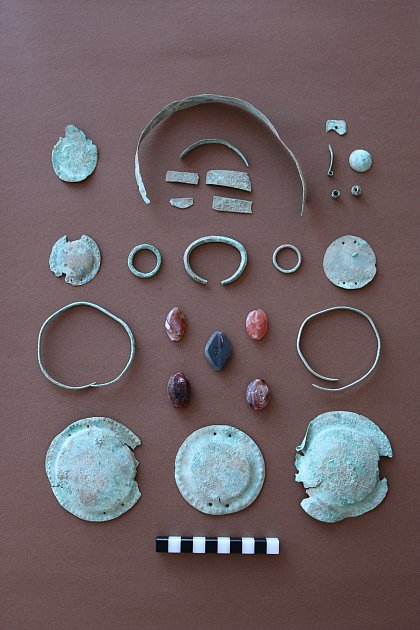 Fig. 6: Deposit 3.
---
---